The term 'affordable housing' describes homes where costs are considered affordable to people earning a median wage. The term can be applied to rental and owner-occupied housing, however this blog concentrates on affordability for owner-occupiers.

There have been several material trends over previous years, related to household income levels and household formation, that have worked together to excessively and unsustainably force up property prices to unfair levels.

1. Increased female workforce participation has led to far more dual-income families
2. Competitive bidding for property, driven by the amount banks are willing to lend based on joint income
3. Reduced family sizes, as a result of personal preferences and higher participation in the workforce

This factors are combined with unchecked commodification of shelter for the population. This is caused by misguided governments who omit to regulate house prices, while unfairly allowing over-leveraged bidders to force up housing costs so they, the government, can benefit from vast streams of land tax, stamp duty, and council rates revenue. Australia's dangerously unregulated property environment includes these elements:

Liberalization of debt at higher risk profiles for lenders
The ascent of non-bank lenders and their reckless low-docs loans and non-conforming (sub-prime) loans
Dominance of interest-only loans among investors and speculators
Equalization of interest rates on credit for IPs and PPRs
Inappropriately low mortgage rates
Prevalence of spruikers' who promote 'get rich quick' rorts based on speculation and exploiting others especially renters
Unfair tax breaks, in particular negative gearing
Capitalization of interest and buying costs such as stamp duty
Desperate buyers, hysterically outbidding each other to get 'on the ladder'
Speculative irrational exuberance, faith that house prices can only go up and unending capital gains will bail out their ongoing losses
Greedy real estate agents, baby boomers, and developers cashing in on this hysteria
Low costs for property purchase compared to other nations
A rental market that favors landlords and unfairly gives few rights to tenants

Sadly these factors all mean that every spare dollar of household income is spent on overpriced housing and capitalized into ever increasing house prices as young families battle for decent shelter while speculators unfairly hoard the available housing stock.

Australians buying a home for the first time are eligible for a first home owner grant. These grants were introduced on 1 July 2000 and are jointly funded by the Commonwealth government and the state and territory governments. First home buyers are currently eligible for a grant of A$7000 to alleviate the costs of entering the housing market.[11]

The Commonwealth government in 2008 introduced first home saver accounts, whereby those saving for a new home are eligible for government contributions to their savings account, subject to conditions.

Australians who rent may receive some Centrelink benefits such as rent assistance, which is a subsidy paid directly to renters on top of the normal Centrelink benefit. The value of rent assistance depends on the rent payable by the recipient and on the number of dependents of the recipient.

Many believe low income households (lower 40% of households) shouldn't spend more than 30% of their income on housing costs.

Continues here: Housing Affordability Crisis. Why Oz Housing Affordability is at its Lowest Level Ever.
| | | |
| --- | --- | --- |
| Theme: Australian Property Forum | | 3:17 AM Dec 14 |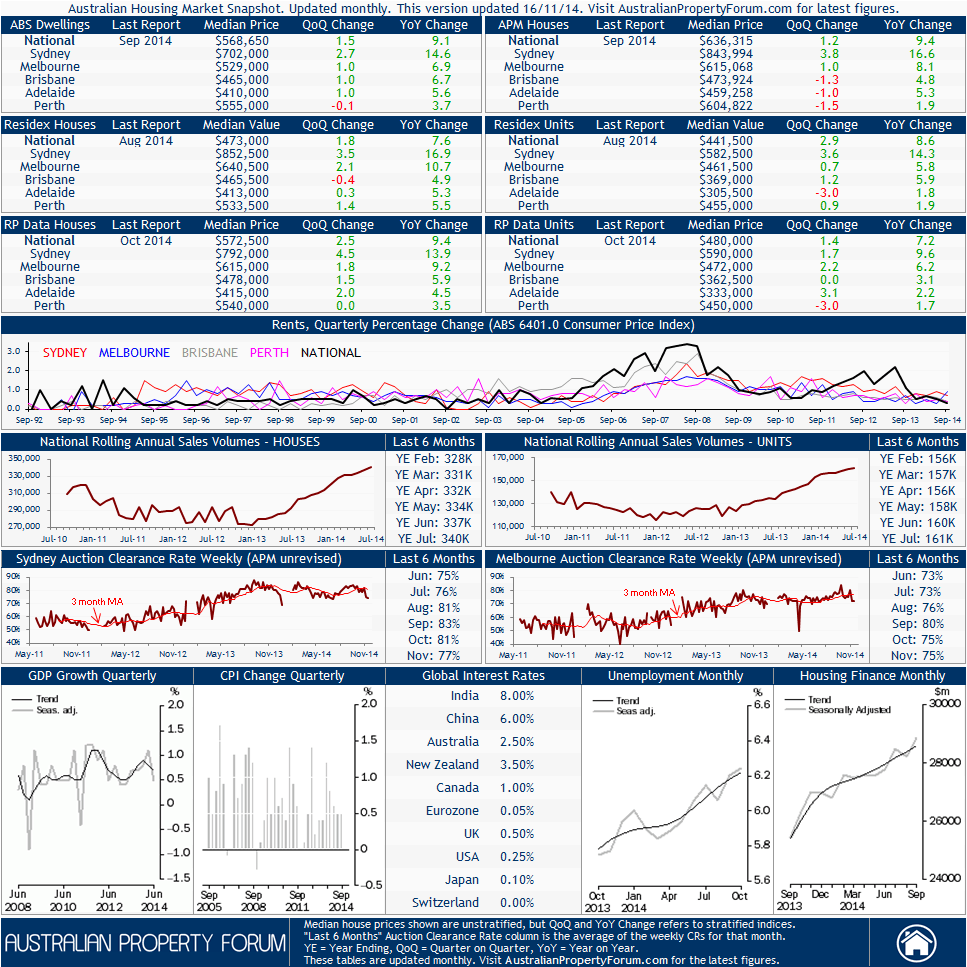 Australian Property Forum focuses on Australian and global real estate markets, economics, and finance, including house prices, housing affordability, macroeconomics, and the likelihood of an Australian property crash. Does Australia have a housing bubble? Will house prices crash, boom or stagnate? Is it a good time to buy property using a home loan, or better to rent and save the difference? Is rent money dead money? Is the Australian property market a pyramid scheme or Ponzi scheme? Can property values rise keep rising forever? These are the types of question we address on Australia's premier real estate chat site for property bears, bulls, investors and speculators. Whether you're a property investor, first home buyer (FHB) or a happily renting tenant, this site has content for everyone. Additional topics debated on APF include politics, modern monetary theory (MMT), debt deflation, precious metals, generational divides, climate change, sustainability, alternative energy, environmental, human rights and social justice issues, whether or not Australia has a critical housing shortage, versus a glut (oversupply) of dwellings, negative gearing, capital gains tax, land tax, macro prudential regulation, reverse mortgages, debt consolidation, debt management, home insurance, landlord insurance, auction results, auction clearance rates, and all the latest house price news. Forum members also regularly review and and analyse the latest blogs and trending topics from sites like Business Spectator, Property Observer, Macrobusiness, Somersoft, Demographia, Steve Keen's Debtwatch, as well as MSM (mainstream media) articles from well known economists, reporters and commentators such as Ross Gittins, Neil Jenman, Michael Pascoe, Alan Kohler, Shane Oliver, Catherine Cashmore, Philip Soos, Louis Christopher (SQM Research), Mike (Mish) Shedlock, Leith van Onselen, Chris Becker, David Llewellyn-Smith, Chris Vedelago and more. APF is the first forum to report and debate the latest auction results and house price data releases from APM (Australian Property Monitors), Residex, RP Data Rismark, REIV (Real Estate Institute of Victoria), REINSW (Real Estate Institute of NSW), REIA (Real Estate Institute of Australia), HIA (Housing Industry Association), RBA (Reserve Bank of Australia), API (Australian Property Institute), and the ABS (Australian Bureau of Statistics).

Australian Property Forum complies with ASIC Regulatory Guide 162 regarding Internet Discussion Sites. Australian Property Forum is not a provider of financial advice. Australian Property Forum does not in any way endorse the views and opinions of its members, nor does it vouch for for the accuracy or authenticity of their posts. Posts on Australian Property Forum may contain links to other websites operated by third parties. These websites are not under the control of Australian Property Forum and APF management is not responsible for their content.

It is not permitted for any Australian Property Forum member to post in the role of a licensed financial advisor or to post as the representative of a financial advisor. Australian Property Forum members are solely responsible for the accuracy and authenticity of their posts, including any alterations made to posts. It is not permitted for Australian Property Forum members to ask for or offer specific buy, sell or hold recommendations on particular stocks, as a response to a request of this nature may be considered the provision of financial advice.

Views expressed on this forum are not representative of the forum owners. The forum owners are not liable or responsible for comments posted. Information posted does not constitute financial or legal advice. The forum owners accept no liability for information posted, nor for consequences of actions taken on the basis of that information. By visiting or using this forum, members and guests agree to be bound by the Zetaboards Terms of Use.

This site may contain copyright material the use of which has not always been specifically authorized by the copyright owner. Such content is posted to advance understanding of environmental, political, human rights, economic, democratic, scientific, and social justice issues. This constitutes 'fair use' of such copyright material as provided for in section 107 of US Copyright Law. In accordance with Title 17 U.S.C. Section 107, the material on this site is distributed without profit for research and educational purposes only. If you wish to use this material for purposes that go beyond 'fair use', you must obtain permission from the copyright owner. Such material is credited to the true owner or licensee. We will remove from the forum any such material upon the request of the owners of the copyright of said material, as we claim no credit for such material.

For more information go to Limitations on Exclusive Rights: Fair Use

Privacy Policy: Australian Property Forum uses third party advertising companies to serve ads when you visit our site. These third party advertising companies may collect and use information about your visits to Australian Property Forum as well as other web sites in order to provide advertisements about goods and services of interest to you. If you would like more information about this practice and to know your choices about not having this information used by these companies, click here: Google Advertising Privacy FAQ

Australian Property Forum is hosted by Zetaboards. Please refer also to the Zetaboards Privacy Policy