Vested interest spruikers claim the Aussie house price problem is caused by a 'severe shortage' of houses and that we're 'running out of land'. This 'shortage religion' has made people look for solutions in the wrong place. This post will finally debunk the shortage myth for once and for all!

Census data proves there is an oversupply of property. Australia was building new dwellings well in excess of what was needed to cope with population growth across most of the country for many years. In the Northern Territory, the number of dwellings rose by 3 percent and the population WENT DOWN by 4.85 percent!

The amount of empty dwellings has been rising at TRIPLE the rate of population growth in most states and across the country as a whole.

Economic theory tells us prices in a free market are established by the balance between demand and supply. If demand is lower than supply, prices drop, and vice versa if supply is lower than demand, prices increase. Real estate values rose at unprecedented and unsustainable rates in many countries around the globe, suggesting supply was lower than demand. If supply is lower than demand a shortage exists. Demand can be measured using dollars, which are nothing more than digits in a bank computer. Demand may change rapidly if mortgage rates drop for example. Demand may rise in several ways........

1. Increased buyer volume caused by population growth and demographic changes.
2. Novel lending services such as low-doc/subprime loans allow previously disqualified people to obtain debt.
3. Rising debt servicing capacity due to low interest rates, innovative mortgage finance, or equity growth in prior property purchases.
4. Speculation, in other words purchasing property because 'prices always go up'. Speculative purchases produce a feedback loop and lead to bubbles and speculative mania when values grow to levels entirely disconnected from intrinsic value based on yields.
5. Panic can cause FHB to buy immediately before they get 'priced out' bringing forward demand.

So demand may increase instantly but supply on the other hand requires actual PHYSICAL DWELLINGS to be built on available land.

One question we should consider when property values spike upwards so strongly is whether the supply 'shortage' compared to demand is caused by fundamental factors or rather temporary artificial factors? Because if is is only an artificial shortage then it can vanish overnight when credit tightens or public sentiment falls (as always happens when bubble pops). When this happens the artificial shortage can transform into a glut overnight.

Ironically, during a real estate bubble, everyone including the general population, mainstream media, government, economists and property analysts think the shortage is caused by fundamental factors like insufficient dwelling supply. Housing industry organisations and developers push that theory to request unfair government grants, concessions or assistance to boost their bottom line.

How can we determine whether there is an actual shortage or an artificial shortage. Clearly not all countries around the global that experienced rapid house price growth did so because they weren't building enough dwellings. America was convinced it had a property shortage during their insane bubble. Even the president fell into the trap and announced there was a shortage. They thought rapidly increasing home values proved there must be a shortage. We all know how that turned out. America thought they had a housing shortage but when the speculative demand vanished so too did the shortage. Clearly there was no ACTUAL supply problem. Instead demand was artificially high because buyers wanted dwellings for speculative profit rather than shelter.

Between 2001 and 2006 the number of houses in AMERICA grew by 7.2% and the population only grew by 5%. So the dwelling growth exceeded population growth by over 40% in America. Between 2001 and 2006 the number of houses in AUSTRALIA grew by 8.2% and the population only grew by 5.8%. So the dwelling growth exceeded population growth by over 40% here too! Did America really have a shortage? Do we? Australia has been building 1.6 houses per new person for twenty years, yet average household size is 2.6 persons per dwellings. Still believe in the shortage myth?

Almost 10% of dwellings in Australia are sitting empty, hoarded by speculators purely for capital gain. We have never at any point in Australia's history had as many empty dwelling or empty rooms in houses. We've built more houses than population growth requires for decades. Between 1911 and 1996 the population quadrupled, but we increased housing capacity by not four but EIGHT times! Insanity!

Obviously almost one hundred years of excessive dwelling construction can't just transform into a dwelling shortage overnight. If there really was a shortage of houses then developers would be building like crazy to meet demand. But construction has dropped to near record lows. Why? New home sales have dropped. Why? Inventory is piling up on the market. Why? The government introduced and then boosted an FHB grant to boost demand. Why would they do that, doesn't demand already exceed supply?

The answer to these questions is simple, because the demand wasn't real. There was NEVER A SHORTAGE TO BEGIN WITH. Demand had been artificially generated and brought forward by loose credit and rampant speculation. While the property bubble expanded, increasing numbers of houses were allocated to risky speculation instead of shelter, causing vacancy to drop and give the illusion of a shortage. Total demand exceeded that necessary for shelter due to speculative hoarding meaning almost 10% of dwellings were held empty and now this enormous supply of empty dwellings is going to flood the market as previously delusional owners wake up and realise the party is over.

This new glut can only mean one thing, vendors are beginning now to meet the market and preparing to sell for true value instead of speculative value (wishing price). Of course they need to lower their prices and the feedback mechanism this causes will work like the boom in reverse. Prospective buyers will put off buying because they know prices are going down and this will make prices go down even more because vendors need to constant lower their prices to meet the market on the way down. Many desperate vendors will put their properties on the rental market, frantically trying to sell and rent them out at the same time, and vacancy rates will surge.

Over the next couple of years expect to see inventory and vacancy rates surge as prices collapse 20, 30, up to 40 or 50% in most parts of the country. It's only then most people will recognise the shortage MYTH for what it was, a fairy tale, nothing more than hot air generated by industry spruikers in a vain attempt to blow new life into a dying bubble by trying justify further unsustainable increases in already exorbitant real estate prices.
| | | |
| --- | --- | --- |
| Theme: Australian Property Forum | | 3:06 AM Dec 12 |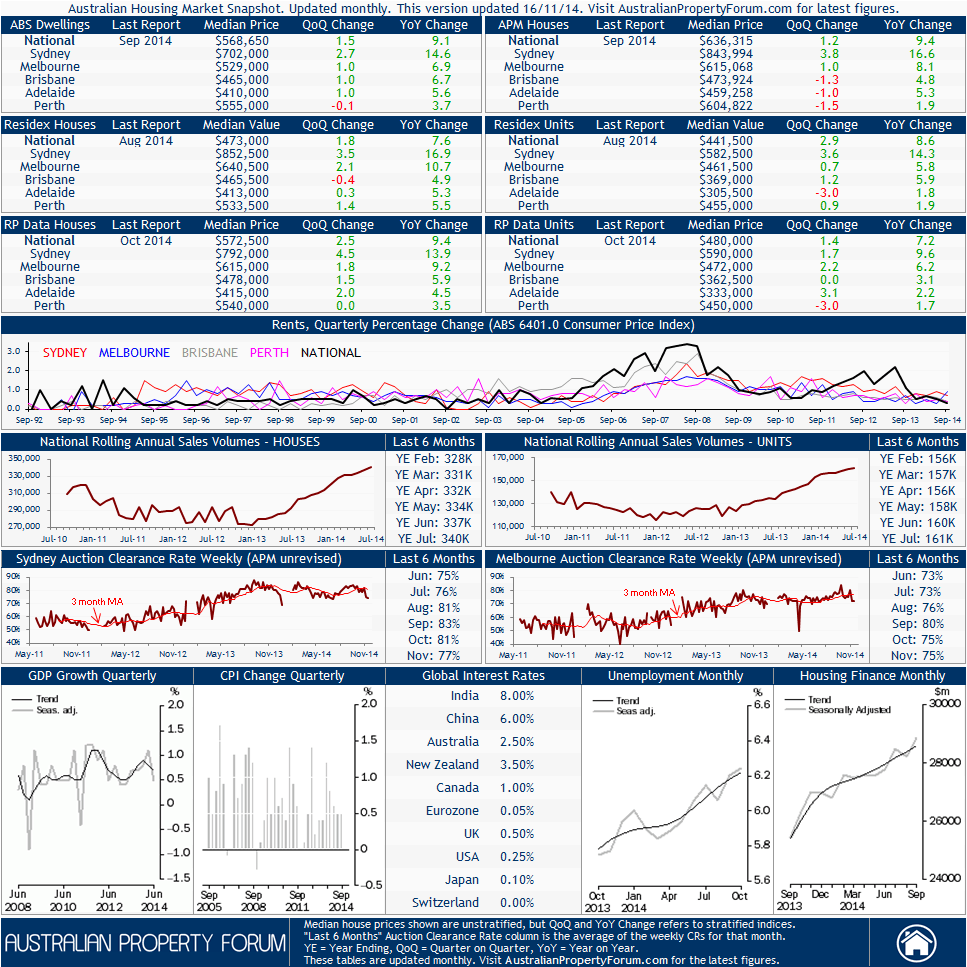 Australian Property Forum focuses on Australian and global real estate markets, economics, and finance, including house prices, housing affordability, macroeconomics, and the likelihood of an Australian property crash. Does Australia have a housing bubble? Will house prices crash, boom or stagnate? Is it a good time to buy property using a home loan, or better to rent and save the difference? Is rent money dead money? Is the Australian property market a pyramid scheme or Ponzi scheme? Can property values rise keep rising forever? These are the types of question we address on Australia's premier real estate chat site for property bears, bulls, investors and speculators. Whether you're a property investor, first home buyer (FHB) or a happily renting tenant, this site has content for everyone. Additional topics debated on APF include politics, modern monetary theory (MMT), debt deflation, precious metals, generational divides, climate change, sustainability, alternative energy, environmental, human rights and social justice issues, whether or not Australia has a critical housing shortage, versus a glut (oversupply) of dwellings, negative gearing, capital gains tax, land tax, macro prudential regulation, reverse mortgages, debt consolidation, debt management, home insurance, landlord insurance, auction results, auction clearance rates, and all the latest house price news. Forum members also regularly review and and analyse the latest blogs and trending topics from sites like Business Spectator, Property Observer, Macrobusiness, Somersoft, Demographia, Steve Keen's Debtwatch, as well as MSM (mainstream media) articles from well known economists, reporters and commentators such as Ross Gittins, Neil Jenman, Michael Pascoe, Alan Kohler, Shane Oliver, Catherine Cashmore, Philip Soos, Louis Christopher (SQM Research), Mike (Mish) Shedlock, Leith van Onselen, Chris Becker, David Llewellyn-Smith, Chris Vedelago and more. APF is the first forum to report and debate the latest auction results and house price data releases from APM (Australian Property Monitors), Residex, RP Data Rismark, REIV (Real Estate Institute of Victoria), REINSW (Real Estate Institute of NSW), REIA (Real Estate Institute of Australia), HIA (Housing Industry Association), RBA (Reserve Bank of Australia), API (Australian Property Institute), and the ABS (Australian Bureau of Statistics).

Australian Property Forum complies with ASIC Regulatory Guide 162 regarding Internet Discussion Sites. Australian Property Forum is not a provider of financial advice. Australian Property Forum does not in any way endorse the views and opinions of its members, nor does it vouch for for the accuracy or authenticity of their posts. Posts on Australian Property Forum may contain links to other websites operated by third parties. These websites are not under the control of Australian Property Forum and APF management is not responsible for their content.

It is not permitted for any Australian Property Forum member to post in the role of a licensed financial advisor or to post as the representative of a financial advisor. Australian Property Forum members are solely responsible for the accuracy and authenticity of their posts, including any alterations made to posts. It is not permitted for Australian Property Forum members to ask for or offer specific buy, sell or hold recommendations on particular stocks, as a response to a request of this nature may be considered the provision of financial advice.

Views expressed on this forum are not representative of the forum owners. The forum owners are not liable or responsible for comments posted. Information posted does not constitute financial or legal advice. The forum owners accept no liability for information posted, nor for consequences of actions taken on the basis of that information. By visiting or using this forum, members and guests agree to be bound by the Zetaboards Terms of Use.

This site may contain copyright material the use of which has not always been specifically authorized by the copyright owner. Such content is posted to advance understanding of environmental, political, human rights, economic, democratic, scientific, and social justice issues. This constitutes 'fair use' of such copyright material as provided for in section 107 of US Copyright Law. In accordance with Title 17 U.S.C. Section 107, the material on this site is distributed without profit for research and educational purposes only. If you wish to use this material for purposes that go beyond 'fair use', you must obtain permission from the copyright owner. Such material is credited to the true owner or licensee. We will remove from the forum any such material upon the request of the owners of the copyright of said material, as we claim no credit for such material.

For more information go to Limitations on Exclusive Rights: Fair Use

Privacy Policy: Australian Property Forum uses third party advertising companies to serve ads when you visit our site. These third party advertising companies may collect and use information about your visits to Australian Property Forum as well as other web sites in order to provide advertisements about goods and services of interest to you. If you would like more information about this practice and to know your choices about not having this information used by these companies, click here: Google Advertising Privacy FAQ

Australian Property Forum is hosted by Zetaboards. Please refer also to the Zetaboards Privacy Policy